Dr. Loyd's Top 5 Ways To Deal With Stress
Dr. Alex Loyd is a best-selling author and Founder of the revolutionary Healing Codes Technique
1. Use meditation
Using meditation is a great way to distract yourself from the stress of day-to-day life.
2. Wear the
Quantum 3 Stress Cancellation Band
. 100% of test subjects had their pulse lowered within 60 seconds!
This breakthrough wearable technology can transform you into a stronger, healthier, and biologically younger person. Q3 significantly opens, strengthens, revives, and de-ages cells in test subjects by "canceling" internal stress and replacing unhealthy energy with healthy energy. Quantum 3 (Q3) is a breakthrough wearable technology that uses natural energy to eliminate stress and improve cell function, that helps our cells to fight and equalize against harmful electromagnetic frequencies.
Think of a pair of noise-cancelling headphones, it works the same way!
Sticking a Q3 patch on your skin supports optimal functioning of your vagus nerve within 60 seconds. The Vagus Nerve Patch gives you all the benefits of the Quantum 3 Band PLUS optimal vagus nerve function. Wearing them both together exponentially increases the benefits you receive from the technology.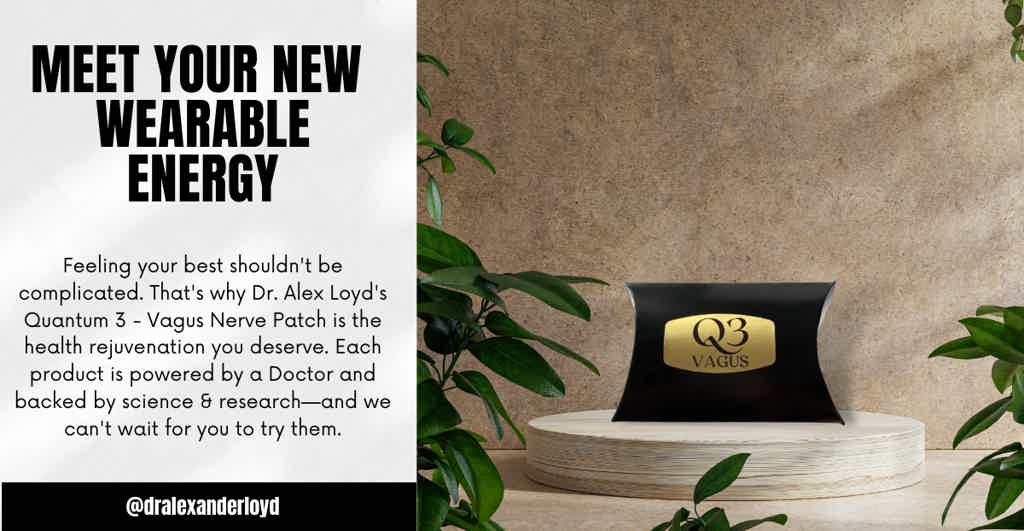 4. Manage social media time.
Spending time on social media sites can become stressful, not only by what we might see on them, but also because the time you are spending on social media might be best spent enjoying visiting with friends, being outside enjoying the weather or reading a great book.
5. Connect with others.
Humans are social beings. You need to have connections with people to feel supported.
Who is Dr. Loyd? Best-Selling Author And Founder Of The Revolutionary Healing Codes Technique

Dr. Alexander Loyd, best-selling author and founder of the revolutionary Healing Codes technique, helps people live their happiest, healthiest and most successful lives. With a Ph.D. in psychology and ND in naturopathic medicine, Dr. Alex combines proven psychology, medical science, energy medicine, and spiritual principles to help you reduce stress, identify and heal the root causes of emotional and physical problems, and remove negative beliefs and barriers that hold you back from happiness and success. His techniques and practices have helped people all over the world experience whole life healing in their relationships, jobs, bodies, minds and spirits.