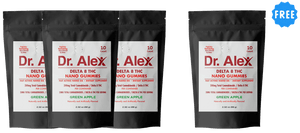 Delta 8
You should still give the discount to those who purchase Buy 3 Get one free.
If you want to retain customers. The product is excellent.
I still haven't received my order from 1 July!! I trialled one pack prior to this and found the gummies are very powerful so can only take a third of a gummie at a time. I'm very keen to continue taking this product and have ordered some for a friend who has cancer. Just disappointed the order seems to have disappeared. Delivery takes so long to get to NZ.
I see you did receive your order after this post! We do know International shipping can be a bit slower post covid. Thank you for your continued subscription!
Better sleep, more inner peace
I was surprised of how good it works, one gummie felt too strong, so I prefere to
take half gummie and after 8 horus annother half...
Much better and deeper sleep, more inner peace during the day...
Question: Can I really take it every day without getting used to it so that you feel less and less over time? Thanks
Seems to help me rest better
love the gummies
they defiantly work for me, I just have to find out the amount to take..when I do I'll let you know