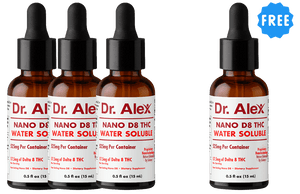 Have used CBD from Alex Loyd for years!
I am glad there is a buy three, get one free offer as it helps me be able to justify the cost of CBD in our budget. I do need it daily. I trust Dr. Alex and know he would only promote those items that were going to improve your quality of life. Thank you!!
Hi Janet, Yes, Dr. Alex takes it himself and he absolutely knows it will help others in different and many ways. Thanks for reaching out! Cindy with Dr. Alex's support team.